Information for Staff
On this page you will find useful information on the process for adding your document to the online clinical guideline catalogue.
GUIDELINE SUBMISSION
If you are satisfied that your document meets the below criteria you can submit it for consideration for addition to the online catalogue by clicking here
WHAT TYPE OF DOCUMENT HAVE YOU DEVELOPED?
Firstly it is important to identify what type of document you have developed; the Clinical Guidelines repository only manages Clinical Guidelines and the documents that support these guidelines, on an exceptional basis policies may be submitted for inclusion however these must also be presented to the Policy Scrutiny committee for approval, please email Clinical.Guidelines@southerntrust.hscni.net for further information. Definitions for various document types can be found here
Although appropriate supporting documentation can also be included in the Clinical Guideline Repository it is advised that this should be added as an appendix to the existing guideline where possible.
HAS YOUR GUIDELINE BEEN APPROPRIATELY CONSULTED ON?
Each guideline lead author is responsible to ensure that their guideline has been appropriately consulted on prior to submission including management, staff and/or other identified stakeholders both internal and external to the organisation. In the interest of best practice service users should be involved in the development of policies where appropriate.
HAVE YOU DEVELOPED A PLAN TO COMMUNICATE THE AVAILABILITY OF THE NEW DOCUMENT?
Each new document added to the clinical guidelines repository will be advised to staff through the next upcoming Trust e-brief, this will be completed by the clinical guidelines management team.   As lead author you are required to ensure the effective communication of the availability of this guideline to relevant staff groups. A template for guideline implementation can be found here
HAVE YOU ADDED AND COMPLETED THE CLINICAL GUIDELINES ID TAG?
Each new document added to the clinical guidelines repository requires an ID tag to be added on the front of each guideline and standard information complete. A copy of the tag can be found by clicking the below image.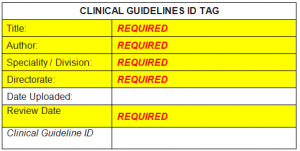 IS YOUR GUIDELINE IN AN EDITABLE FORMAT?
Your guideline must be provided in an editable format (preferably MS Word or MS Powerpoint)
IS THIS A REPLACEMENT GUIDELINE?
If this is a replacement guideline do you have information on which guideline is being replaced?  If legacy copies of the guideline are hosted on the Trust intranet it is the lead authors responsbility to have these removed by contacting the communications team.
HAVE YOU OBTAINED THE APPRORIATE APPROVALS?
Each new guideline is required to have appropriate approvals, the required approvals document can be found here
INTERIM CHANGES
In some situations it may be necessary to make small changes to the clinical guideline before a formal update is due. These may be either minor insubstantial changes ('bug fixes'), or more significant changes for which formal consultation with stakeholders will be necessary. For small changes to be put in place without stakeholder consultation, they must fulfil all of the following criteria:
no fundamental stage in the process is either added or removed
no fundamental method, technique or step is either added or removed
no stakeholders will obviously be disadvantaged
the efficiency, clarity or fairness of the process or methodology will be improved
Please click here if you wish to make an interim update to a guideline.
REVIEWED GUIDELINES
If your guideline has been reviewed, been subject to divisional approval processes and has not been changed you can inform the team of the next review date using this form . If you are fully reviewing / updating a guideline you will be required to submit through the full guideline process found above.
IF THE YOU HAVE ANSWERED ALL THE ABOVE QUESTIONS YOU CAN SUBMIT YOUR GUIDELINE FOR CONSIDERATION FOR ADDITION TO THE ONLINE CATALOGUE BY CLICKING HERE
If you have any questions please contact the Clinical Guidelines Management Team via email: clinical.guidelines@southerntrust.hscni.net